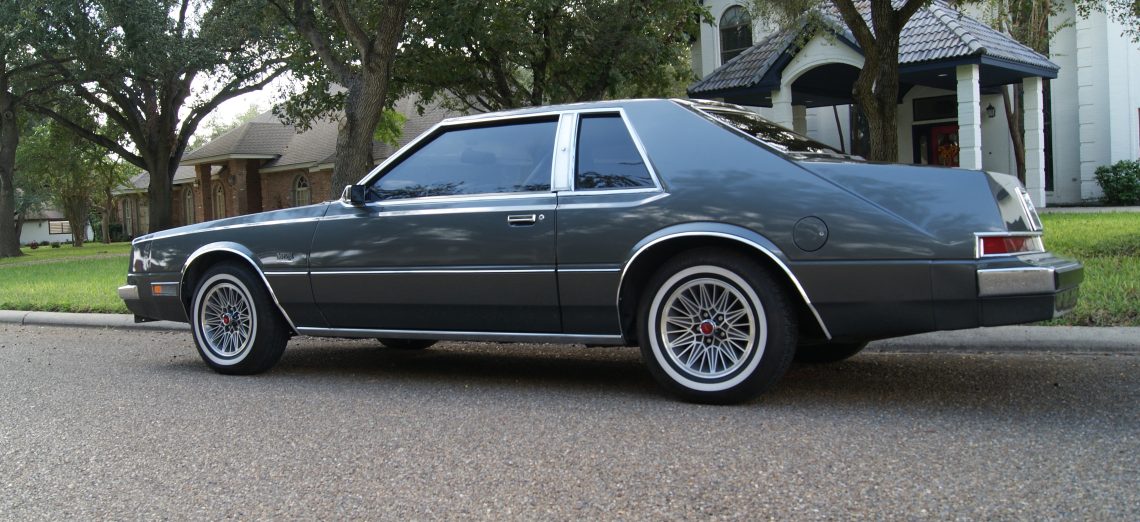 Beautiful 1982 Chrysler Imperial For Sale
Many thanks for stopping by, but I believe it is sold. Closing the transaction soon.
Happy that an enthusiast purchased it.
Due to downsizing, I no longer have a garage space to store my 1982 Imperial. Currently it is being stored under a carport with a car cover on it. It's started and driven regularly to ensure it runs smoothly. Simply stated, the car deserves a better existence and more frequent use. It is a definite head turner and a well-preserved survivor given the history of the 81-83 Imperial line. This car was converted to carburetor by one of the previous two owners, but I do not believe it was a true factory conversion as the dashboard DOES NOT have the asterisk between the ODO and MILES indicator. The asterisk is typically seen on dealer installed EFI to carb conversions as the dashboard was replaced as part of the retrofit.
Enclosed are details of my original purchase and other investments (parts, service, etc..) that I have made in the car. It drives very well and is extremely quiet. The car is on its second paint job and the hood was later repainted because of bubbles that had appeared in the finish. Insulation was installed to prevent future heat transfer, I've since had no issues. The two front seats were recovered as the driver's seat had a split in a seam. I procured the equivalent of OEM leather from SMS Auto Fabrics that was specifically dyed and treated with the special "opalesque" finish used in the Imperial. The leather alone took 8 months to acquire and was almost $600. I've had the carburetor rebuilt once after installing a new TOMCO carb in 2104. It was rebuilt and cleaned in June, 2021.
As for the car, here's a quick inventory of the vehicle:
Headlamp doors operate (I replaced the original interior door cover with the 1981 chrome version as I think they are more attractive)
Headliner was replaced in 2014.
Painted in 2014. I did not pinstripe it because I wanted them hand-painted and couldn't find a proper artist.
A/C converted in 2014.
Some sections of the bumper have been replaced due to the finish bubbling/flaking.
The original radio was replaced with a working unit. I have never tried the cassette tape.
The radiator and water pump were replaced in 2018.
New tires were placed on the vehicle in 2018.
Power locks work.
Power windows work.
Power antenna works with original radio.
Power mirrors are finicky and temperamental. I set and forget them because the movement is slow.
The Cartier emblems in the exterior lighted columns and steering wheel are intact.
The hood ornament was replaced with an OEM Cartier as the original was badly chipped from road wear.
The wiper blades will park, but need some manual assistance to completely disappear.
Intermittent wipers settings work.
The steering wheel had some cracks that were repaired by a fabrication shop, but have reappeared.
The radio antenna routes to the secondary stereo. The dash unit simply has a speaker mounted in the middle of the dash for stylistic effect.
There is a Pioneer Bluetooth receiver with 2 6×9 speakers in the rear and 2 tweeters in the front.
The original aluminum rims were quite weathered, so I bought a set on eBay and then had them restored. Some of the middle caps, originally clear/white, were missing so I replaced them with 4 of the red jeweled caps.
Since this vehicle is so long, I added a rear view back-up camera that engages when you place the car in reverse.
All fender chrome is in excellent condition as it was all replaced with OEM. Since installation, one strip has a small "ding" in it.
Speaking of dings. I tried to capture a photo of one that's on the passenger side under the back window on the upper part of the body. It did not photograph well. I have not had it repaired as I do not have a PDR person I trust available. The hood has a vaguely noticeable dip 1/3 of the way down from the driver's side, towards the middle of the hood. I only mention it because I notice it when cleaning the car.
The car has a coat of ceramic wax on it and the paint repels water very well. Incidentally, the car has been stored in a garage since I acquired it in 2012.
The fuel gauge can be temperamental, not changing during driving, but showing the accurate level at restart.
The Imperial shifts smoothy, brakes quickly and accelerates as expected, very leisurely. The steering is light/airy.
The black rubber on the rear bumper has a nick in it. A fabricator could likely fix it, I just have not looked into it.
Top of the dashboard has some slight discoloration due to age but is not cracked anywhere. See photos.
The lower fascia of rear bumper has some "feathering" in the paint as it likely didn't have enough flexing agent when painted. Not noticeable to naked eye. See photos.
Cruise control is inoperable because of change from EFI to carb,
The sale includes a number of assorted spare parts salvaged from 2 Imperials on a pick/pull lot in Seguin, Texas. They are too numerous to mention individually, but are a valuable asset that comes with the sale.
There are 2 areas on the passenger side, lower body where some rust remediation is going be required, eventually.
Currently insured by Berkeley Classic with an $11,000 replacement valuation.
Vanity mirrors actually work.
Cornering lamps function.
New Texas inspection sticker, so it obviously passes that testing regiment.
$9,000.00 See accompanying documentation for repair/replacement history.
99,329 Miles (reasonably assured this is quite accurate given the lack of an asterisk on dash.)
A gallery of full sized, non-compressed images and videos of the Imperial are located here.
This is a very stunning, rare car with a gorgeous and comfortable interior.
You arrange shipping. U SHIP is a good option or choose your own carrier.
If you want a 3rd party assessment, use Freddy Gonzalez/Closer intersection in Edinburg, Texas as center point to search for a mechanic within a 5 mile radius, please.
Serious inquiries only.
No owner financing.
No trades.
512-298-2032