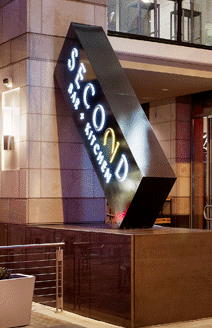 I met renowned music producer and DJ, Francis Prève, for a long overdue dinner and chat at Second. He introduced me to a libation called an "Aviator," something about essence of violet, and it was delicious.  He had the flank steak (always a good choice) while I had the ravioli; delicate, flavorful, and a hint of mint.  Quite delicious.
They could use some sound buffers under the tables as the place is ridiculously loud. That makes it difficult for intimate conversations, but it was bustling with lots of happy, shiny people.  < A music reference for Francis.
If you're in the mood to drop some bucks, Congress next door is really quite a treat.