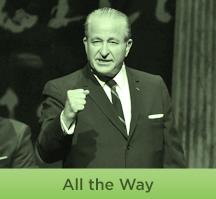 All The Way at Zach Scott Theatre is a Must See!
I was lucky enough to be seated on the third row in, just slightly left of center for this fantastic production. It was a very moving production full of emotion, makes you slightly uncomfortable, and even a little scared at times. It takes you back to a time –not too far away, when things were very different, yet oddly similar, to how they are now. The parallels certainly hit home.
You are completely immersed in the struggles of the African-American community and the trials of the President. Skip American History classes and take your children (language advisory) to see this play for a history lesson they won't forget.